Exciting courses for all levels
RESIDENTIAL
7 Day residential painting holidays that also cater for non painting partners.
You can buy a painting holiday as a gift for a special person.
DORDOGNE REGION OF SOUTH WEST FRANCE
The Dordogne is full of beautiful locations and has plenty of interesting activities for everyone to engage in. From golf to horse riding, walking, biking, canoeing, fishing, historical sites, beautiful medieval villages and regular markets.
NON PAINTING PARTNERS
Although the courses are designed for artists, your non painting partner or friend is welcome to join you on your holiday.
Non painting partners can also accompany you on organised field trips. This can be a great way to discover the region.
If your partner just wants to enjoy the sun, a glass of wine and a good book, they can just stay back at the Farmhouse with their feet up.
LEISURE ACTIVITIES
There are many leisure activities near St Severin d'Estissac. Canoes and kayaks are available to hire along the banks of the Dordogne and Vezere rivers. Being wide and generally shallow, both rivers can be enjoyed whether you are a beginner or a skilled amateur.
For golfers there are good courses in the area. Tennis lovers can use the local municipal courts. If you enjoy hiking, then the area has some tremendous walks with breathtaking scenery. Come in the autumn and you may well discover wild mushrooms as you trek. If you are an angler, there are plentiful rivers and lakes in which to fish. From Chub to Carp almost all types of fish can be caught.
PLACES TO SEE
A large range of places can be visited : for example Neuvic château, château Montreal, local markets, Monbazillac (famous for its sweet white wine), Périgueux, Bergerac etc.
The wide range of sceneries such as vineyards, sunflower fields, woodlands and châteaux and market scenes represent the charm of the Dordogne.
The magic of it all may inspire you and even non-painters have been known to put brush to canvas for the first time.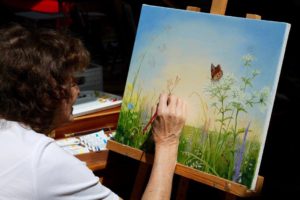 ---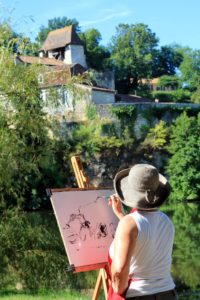 ---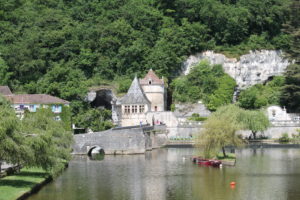 ---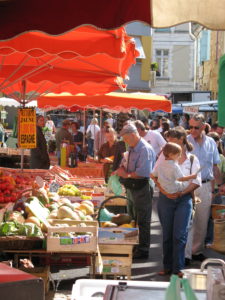 ---